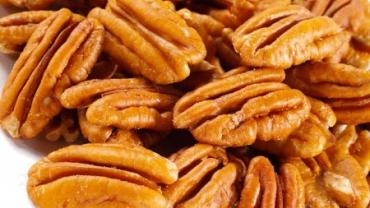 Pecans: Autumn's Favorite Nut
When someone describes something as having a "nutty" flavor they're not usually referring to pistachios macadamias or peanuts. More likely they're talking about the unique flavor imparted by roasted almonds and pecans. It's a warm toasty and "golden brown" flavor if a taste sensation can be said to have a color. With all the love for grain-free treats made with almond flour and dairy-free smoothies and lattes made with almond milk poor pecans get the short shrift. Well not anymore!
Like most nuts pecans fit into just about every diet paradigm out there. Vegetarians vegans low-carbers keto dieters and Paleo adherents alike can all enjoy these delicious crunchy nuts. The only people who might want to stay away (besides people with tree nut allergies of course) are those on very low-fat diets but even in that case the body does still require some dietary fat and pecans are loaded with monounsaturated fat a bit of polyunsaturated and just a touch of saturated rounding things out. The predominant individual fatty acid in pecans is oleic acid the same one that predominates in olive oil. The omega-6 to omega-3 ratio of pecans is a heavy 21:1 but the total amount of polyunsaturated fat in an ounce of pecans is only about 6 grams so the total omega-6 is nothing to lose sleep over. (Unless you wolf down a large amount of pecans which is certainly not impossible considering how delicious they are.)
Nutrient-wise pecans provide copper manganese zinc and thiamin with small amounts of magnesium and iron. They're high in fiber and very low in total carbohydrates making them a great snack for people eating low-carb higher-fat diets. Not that anyone gravitates toward pecans for their nutrient content. More likely it's because plain and simple they're just really tasty. They work in both sweet and savory dishes and they're practically a staple for pairing with classic autumn foods like apples pumpkin winter squash and many side dishes some of which may have made an appearance at the Thanksgiving table. 
Hosting a holiday party or having friends over for game night? Your guests will love candied cinnamon pecans. For dinner side dishes maple pecan butternut squash screams fall. (Give it a bacon twist for something downright delectable.) Prefer something without as much sugar? It's hard to go wrong with bacon pecan Brussels sprouts. For dishes you can eat year-round but might especially enjoy during the holidays try savory Thanksgiving stuffing caramelized onion and sausage stuffing with pecans or stuffed acorn squash.
To satisfy a sweet tooth how about a grain-free chocolate pecan pie? (Yes such a thing exists!) Or maybe try whipping up a batch of pumpkin pecan butter. (Word to the wise: unless you have willpower of steel make a small batch or keep a small portion of it for yourself and gift the rest to friends or this will disappear right before your eyes…and right into your stomach!) You can always wow your guests with an impressive Paleo-friendly sweet potato pecan pie.  
Pecans don't always have to accompany heavy hearty dishes or sugar-laden desserts though. For lighter fare consider this fall harvest salad with apple maple vinaigrette or pecan-encrusted tilapia with blood orange salsa. Going for a hike to enjoy the fall foliage and smoky smell of autumn air? Don't forget to take a batch of nutty cinnamon-y grain-free granola.
In case their delicious flavor and versatility aren't big enough selling points for pecans how about iso-energetic replacement of other foods with pecans leading to small but statistically significant reductions in total and LDL cholesterol and an increase in HDL in healthy adults? In general diets that include tree nuts have been shown to be beneficial for blood lipids and for improving cardiovascular disease risk markers in type 2 diabetics. 
Don't let almonds and the more "popular" nuts completely steal the spotlight. Make room for pecans … good for your tastebuds and good for your heart.