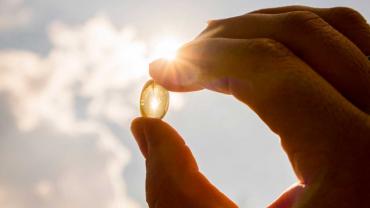 New study demonstrates vitamin D and whey protein supplementation mitigate low grade chronic inflammation in patients with sarcopenia
Chronic low-grade inflammation, sarcopenia and functional decline are often seen with the aging process. The loss of muscle mass between the ages of 40 and 80 is approximately between 30% and 60% and is associated with disability, illness, and even death.
In a new study published last Thursday in Aging Clinical and Experimental Research, researchers demonstrated that supplementation with vitamin D and leucine-enriched whey protein may mitigate chronic low grade inflammation in patients with sarcopenia.
This study included 298 individuals over 65 years of age for a 13-week period. Each participant received either a 40 gram sachet or placebo. The active product contained 20 grams of whey protein, 3 grams of leucine, a mixture of carbohydrates and fat, 800 IU of vitamin D, fiber, minerals, and vitamins. Assessments were taken at baseline, 7, and 13 weeks and included handgrip strength, body composition, physical performance, and dietary intake. Laboratory assessment included IL-8, IL-6, IL-11Ra, hs-CRP, pre-albumin and vitamin D 25-OH.
Results showed that 13 weeks of supplementation with vitamin D, leucine, and whey protein mitigated chronic low grade inflammation in older sarcopenia patients. Hs-CRP levels were decreased in the group receiving supplementation compared to an increase in the placebo group. In addition, overall there was a significant decrease in IL-8.
Vitamin D is an important nutrient in musculoskeletal health, as research has shown it to be helpful for physical performance, muscle mass, and strength in seniors. Beneficial dosing ranges between 800 IU to 2000 IU per day. While vitamin D is only one key player, supplementation with this vitamin is a cost-effective intervention that can help reduce falls, provide health benefits, and, thus, can also contribute to reducing health care costs.
In addition, previous research has demonstrated that probiotics can significantly reduce established biomarkers of systemic inflammation in middle-age and older adults. There is evidence that age-related changes in the gut microbiome may be related to elevated inflammatory makers and other geriatric conditions such as sarcopenia, frailty, and cognitive decline secondary to reduced short chain fatty acid production. Also, the strength of the immune system has a tendency to decline with age, which makes us more susceptible to infections and increases our risk of other diseases. Probiotics have the potential to rebalance gut microbiota and modulate gut immune response, inhibiting the NF-κB pathway.
Fish oils also plays a role in sarcopenia and functional decline. Their anabolic role is due to their anti-inflammatory benefits, improvements of insulin sensitivity, and stimulation of muscle protein synthesis. It takes approximately three months of supplementation to see improvements but only doses of 3 grams or more per day showed significant improvements in functional measures and muscle mass.
By Michael Jurgelewicz, DC, DACBN, DCBCN, CNS
Source: Liberman K, Njemini R, et al. Thirteen weeks of supplementation of vitamin D and leucine-enriched whey protein nutritional supplement attenuates chronic low-grade inflammation in sarcopenic older adults: the PROVIDE study. Aging Clin Exp Res. 2019 May 2.