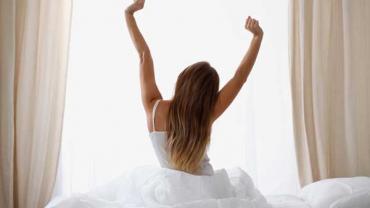 Back to School = Back to Bed
With school just around the corner, many parents, children, adolescents, and college students are facing the reality that the long summer daylight hours and fun outdoor activities are coming to an end while the rigid school schedule that orders the majority of the year is before us. Ensuring a solid sleep schedule is one of the most important steps we can all take in rebuilding a healthy schedule that will foster ongoing health and optimal learning.
According to the American Academy of Pediatrics, children 6 to 12 years old should be getting 9 to 12 hours of sleep each night. Teenagers should be getting 8 to 10 hours of sleep each night. However, in 2006 the National Sleep Foundation conducted a survey and reported that most youths received significantly less than 9 hours of sleep each night with 17 to 18-year-olds only getting an average of 6.9 hours. Later bedtimes were the primary reason for this shortage.
Repeatedly getting fewer than the recommended number of hours of sleep each night leads to chronic sleep deprivation. Unfortunately, a lack of sleep is common during the traditional school year among children, adolescents, and adults of all ages. Adequate sleep is directly associated with attention, behavior, learning, memory, emotional regulation, quality of life, and mental and physical health.
Obesity
Sleep deprivation is linked to the most epidemic health tragedy of our time – childhood obesity. In a study of 240 toddlers, obesity was significantly associated with even a small decrease in sleep duration from 9.2 to 8.5 hours. A decrease in rapid eye movement (REM) sleep is one explanation offered and has been linked to a lower sleeping metabolic rate, decreased leptin and increased ghrelin levels which promote food consumption. The study also showed that 1 hour less of REM sleep led to a 3-fold increase in the chances of being overweight.
The hormonal impact of sleep may have a larger influence upon obesogenic trends. Sleep deprivation has been correlated with alterations in cortisol, ghrelin, leptin, growth hormone, and glucose tolerance and decreased insulin sensitivity. Collectively, these changes impact obesogenic behaviors such as poorer energy regulation, unhealthy food choices, increased food consumption, and decreased physical activity. Another report on the impact of sleep deprivation in adolescents stated, "short sleep duration, poor sleep quality, and late bedtimes are all associated with excess food intake, poor diet quality, and obesity."
Taking steps to simply put children (or encourage adolescents and college students) to bed earlier can be a huge step in halting the trajectory of obesity among our youth and young adults.
Type 2 Diabetes
Rises in childhood obesity are certainly linked to the development of type 2 diabetes that we are witnessing in younger populations than ever before in history. Obesity and type 2 diabetes share many of the same hormone and metabolic pathways which are affected by sleep. However, sleep deprivation has also been considered an independent risk factor for type 2 diabetes. In a review of 21 observational and 2 experimental studies, short sleep duration, and reduced REM and slow-wave sleep were associated with insulin resistance.
Historically, type 2 diabetes was only seen in adults, but with the rise of this condition in children, it is important to consider whether the lack of sleep is one reason for this relatively new childhood condition.
Contributing Factors
Later bedtimes are a strong reason for chronic sleep deprivation in children and adolescents; however, recent studies are also suggesting that increased screen exposure in our electronic media-saturated culture could be another factor robbing children and adolescents of adequate sleep. Other external factors can include extracurricular activities, excessive homework load, evening use of electronic media, caffeine intake, and early school start times.
Sleep Support
Old habits die hard and so does readjusting a sleep schedule. Therefore, sleep supportive botanicals and nutraceuticals can be helpful for the interim until patterns of adequate sleep are well-established. 5-hydroxytryptophan (5-HTP) has been a nutrient helpful for multiple sleep problems in children including problems getting to sleep (dyssomnias), sleep terrors, and sleepwalking. 5-HTP is an amino acid precursor to the hormone, serotonin, which is converted into melatonin. According to a systematic review of 28 systematic reviews, RCTs, or observational studies, increased melatonin is effective for improving sleep-onset time and total sleep time in children. A randomized controlled trial of 98 boys aged 8 to 12 years showed L-theanine, another amino acid, improved sleep quality. However, in a study that combined L-theanine with GABA, both sleep duration and latency were improved and REM sleep was significantly increased compared to the use of L-theanine alone.
Adequate sleep in children, adolescents, and adults is critical for optimal health. It begins with a good routine that includes an early bedtime, but if that habit seems hard to establish, 5-HTP, L-theanine, and GABA may offer support until sound sleep comes naturally.