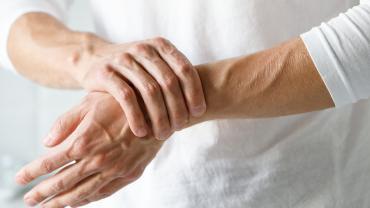 New Study Investigates the Impact of an Anti-Inflammatory Diet on Disease Severity in Patients with Rheumatoid Arthritis
There has been a significant increase in the incidence of autoimmune disorders over the past several decades, with one of the major environmental triggers in these conditions being the diet. Many individuals have less-than-perfect diets, coupled with the fact that over the years Americans have lost much of the diversity in their food selections. These factors affect the gut microbiome and contribute to the epidemic of autoimmune disorders. More and more research demonstrates that the food an individual consumes affects what bacteria populations reside in the gut. Dietary approaches provide the most effective means to returning balance and proper function within the gastrointestinal system. 
In a new study published last week in The American Journal of Clinical Nutrition, researchers investigated the impact of an anti-inflammatory diet on disease severity in patients with rheumatoid arthritis (RA).
This was a single-blinded crossover study that included 47 patients with RA. Patients were randomly assigned to either an anti-inflammatory diet or control diet for a 10-week period. After a 4-month washout period, the patients switched diets. Food equivalent of approximately 50% of their energy requirements was delivered weekly to their homes. For the remaining meals, they were advised to consume the same type of foods as the ones provided during each diet. The primary outcome was the change in Disease Activity Score in 28 joints-Erythrocyte Sedimentation Rate (DAS28-ESR). Secondary outcomes were changes in the components of DAS28-ESR such as tender and swollen joints, ESR, C-reactive protein and visual analog scale.
The main meals of the diet included fish three to four times per week and vegetarian dishes with legumes one to two times a week. Potatoes, whole grain cereals, vegetables, spices, and other flavorings were also included. Snacks consisted of fruits and breakfasts included low-fat dairy, whole grain cereals, pomegranate, blueberries, nuts, and juice shots with probiotics. The probiotic shot included a strain of Lactobacillus plantarum and was consumed five days a week. For the meals not provided, patients were advised to limit their intake of meat to less than three times per week and to eat fiver or more servings daily of fruits and vegetables, to use oil or margarine for cooking, and to choose low-fat dairy and whole grain cereals.
The control diet contained meat or chicken and refined grains daily, protein bars for snacks, with breakfasts consisting of white bread with butter and cheese, or yogurt with corn flakes and orange juice. In addition, patients were instructed to consume meat more than five times a week, eat seafood no more than once a week, and to consume less than five servings of fruits and vegetables. Patients were also advised to use butter for cooking and consume high-fat dairy products. They were also advised to avoid products with probiotics. Before each diet period, patients received a binder including weekly menus and recipes as well as instructions for the meals not provided. Three weekly menus were repeated throughout the diet periods.
As a result, DAS28-ESR significantly decreased with the anti-inflammatory diet and was significantly lower after the intervention than after the control period in the patients that completed both periods. Thus, this study demonstrates positive effects of an anti-inflammatory diet on disease activity in patients with RA.
In addition to an anti-inflammatory diet, other nutrients to consider include vitamin D, fish oil, resveratrol, curcumin, and probiotics. It is also important to look for environmental triggers such as food sensitivities, nutrient status, toxins, and gut health. Each person's biochemical individuality exerts a major influence on his or her health. The level of nutrient intake, lifestyle choices and environmental exposures filtered through genetic predisposition are major factors in the expression of disease, and a successful treatment approach must investigate these factors.
By Michael Jurgelewicz, DC, DACBN, DCBCN, CNS
Source: Vadell A, Barebring L, et al. Anti-inflammatory Diet in Rheumatoid Arthritis (ADIRA)- a Randomized, Controlled Crossover Trial Indicating Effects on Disease Activity. Am J Clin Nutr. 2020 Jun 1;111(6):1203-1213.