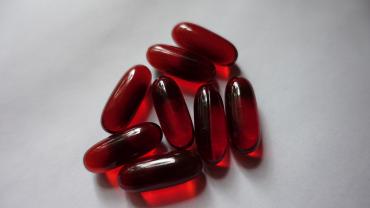 New Study Investigates the Effects of Astaxanthin on Cardiac Function in Patients with Heart Failure
Astaxanthin, is a red-orange xanthophyll carotenoid that is produced primarily by microalgae (Haematococcus pluvialis) and accumulates in many marine organisms such as salmon, trout, shrimp, and lobster. Astaxanthin's unique molecular structure contributes to its unique features, including its higher antioxidant activity than many other carotenoids. 
Previous research suggests that astaxanthin has health-promoting benefits which may lower the risk of developing various diseases and support their treatment, such as chronic inflammatory diseases, metabolic syndrome, diabetes, cardiovascular disease, neurodegenerative diseases, and exercise-induced fatigue.
According to a study published in June 2020 in Nutrients, researchers investigated the effects of astaxanthin supplementation in patients with heart failure. Oxidative stress accelerates the progression of heart failure and is considered a target for treatment.
This investigation was a small, prospective pilot study that included 16 patients with heart failure taking 12 mg of astaxanthin supplementation daily for three months. Researchers assessed body mass index (BMI), blood pressure, heart rate, left ventricular ejection fraction (LVEF), and 6-minute walk distance, and numerous oxidative stress markers including Diacron reactive oxygen metabolite (dROM), biological antioxidant potential (BAP), and urinary 8-hydroxy-2-deoxyguanosine (8-OHdG). Additional laboratory assessments included estimated glomerular filtration rate (eGFR), creatinine, C-reactive protein, tumor necrosis factor-α, B-type natriuretic peptide (BNP), and plasma astaxanthin levels. Researchers obtained the study participants' BMI, blood pressure, and heart rate monthly. The above laboratory assessments, echocardiography, and 6-minute walk test were repeated at the end of the study.
Throughout the study, plasma astaxanthin levels increased significantly. As a result, astaxanthin supplementation decreased oxidative stress levels demonstrated by a decrease in dROM levels. As researchers anticipated, a more significant reduction in oxidative stress markers was observed in patients whole baseline oxidation levels were highest. In addition to reducing oxidative stress, this study demonstrated improved cardiac contractility and exercise tolerance in heart failure patients with left ventricular systolic dysfunction. There were no changes in inflammatory markers after supplementation.
This study is the first of its kind to investigate the effects of astaxanthin supplementation on oxidative stress, systemic inflammation, cardiac function, and exercise tolerance in patients with heart failure.
As astaxanthin is a fat-soluble carotenoid, its bioavailability is enhanced when taken with dietary fats or fish oil. Other nutrients to consider to support the treatment of patients with heart failure include CoQ10, D-ribose, carnitine, magnesium, delta and gamma tocotrienols, and melatonin.
By Michael Jurgelewicz, DC, DACBN, DCBCN, CNS
Source: Kato T, Kasai T, et al. Effects of 3-Month Astaxanthin Supplementation on Cardiac Function in Heart Failure Patients with Left Ventricular Systolic Dysfunction-A Pilot Study. Nutrients. 26 June 2020.