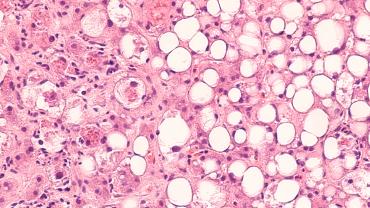 Recent Randomized Clinical Trial Compares Efficacy of Delta-Tocotrienol and Alpha-Tocopherol in Liver Health
Vitamin E is a fat-soluble vitamin, and it is considered a powerful antioxidant. Vitamin E also helps support many aspects of human health, including cardiovascular function, eye health, cognitive function, and cellular health. Delta-tocotrienol is a bioavailable form of vitamin E that has been shown in research to possess certain additional health-supportive qualities related to cellular and metabolic health when compared to alpha-tocopherol, the most well-known form of vitamin E. Recent clinical studies also suggest that delta-tocotrienol, when compared to alpha-tocopherol, may provide superior support for liver health.  
A recent randomized, double-blind, active-controlled trial published by Pervez and colleagues compared the efficacy of delta-tocotrienol with the efficacy of alpha-tocopherol in 100 adults between the ages of 20 and 70 years who were diagnosed with nonalcoholic fatty liver disease (NAFLD). NAFLD is one of the primary causes of liver-associated morbidity and mortality. The pathogenesis of NAFLD has been associated with oxidative stress and inflammation. This 48-week study consisted of two arms: twice-daily supplementation with either 300 mg of delta-tocotrienol or 268 mg of alpha-tocopherol. Biomarkers assessed at baseline and at the study terminus included fatty liver index (FLI), liver-to-spleen attenuation (L/S ratio), homeostatic model assessment for insulin resistance (HOMA-IR), and markers related to antioxidative status and the inflammatory response.  
In both groups when compared with the baseline, significant improvements were observed in the liver markers FLI and L/S ratio, HOMA-IR, and serum malondialdehyde. The between-group analysis of these markers did not reveal significant differences. Both groups also experienced significant improvements in markers related to lipid metabolism, including significant increases in high-density lipoprotein cholesterol metabolism and significant decreases in total cholesterol and low-density lipoprotein cholesterol metabolism. The treatment arm receiving delta-tocotrienol experienced significant improvements in several markers related to apoptosis and inflammation when compared with the alpha-tocopherol group. These include serum interleukin-6, tumor necrosis factor-alpha leptin, high-sensitivity C-reactive protein (hs-CRP), adiponectin, and cytokeratin-18. Cytokeratin-18 apoptotic fragment M30 is associated with hepatocyte apoptosis; elevated levels have been associated with an increased incidence of certain liver diseases, including nonalcoholic steatohepatitis.   
Previous clinical studies involving the efficacy of supplementation with delta-tocotrienol lasted for 24 weeks and reported improvements in glucose metabolism, liver markers, inflammation, and antioxidative status in individuals with NAFLD and type 2 diabetes mellitus. Strengths of this most recently published study by Pervez and colleagues included a longer treatment period and a higher sample size. 
Delta-tocotrienols may play a supportive role for liver health and a healthy inflammatory response. Supplementation with delta-tocotrienols, along with lifestyle changes, may also help support healthy lipid metabolism and antioxidative status. 
  By Colleen Ambrose, ND, MAT