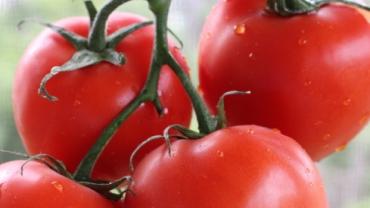 You say tomato we say…tremendous
It wouldn't be summer without plump juicy heirloom tomatoes piled high on a table at the farmers' market or containers of cherry tomatoes as sweet as raspberries reappearing in supermarkets for the season. Eating a rainbow of produce is an effective—and tasty—way to ensure intake of a wide array of nutrients and phytochemicals and just within the tomato family itself you can find red green yellow orange and purple varieties. 
Tomatoes can be found in stores year-round but the drab mushy and mealy ones you come across in winter might as well be a completely different fruit from the plump fresh sweet ones available in the height of summer. In fact tomatoes' botanical name—Solanum lycopersicum—is reminiscent of sunlight itself while also providing the root of the word lycopene which is a powerful antioxidant found in red and pink fruits and vegetables. 
With their low carbohydrate content fiber and complement of nutrients tomatoes fit nicely into many different nutritional strategies including vegetarian low-carb and Paleo-style diets. Due to tomatoes' natural sweetness people on very low carbohydrate diets sometimes avoid them but this isn't necessary. Tomatoes—particularly when they're in season—are sweet and although they have a slightly higher glycemic index than say spinach and broccoli their glycemic load is extremely low. This means it would take a very large amount of tomatoes to have an adverse impact on blood sugar; although of course individual sensitivity to carbohydrate varies. In the spectrum of carbohydrate-containing foods tomatoes aren't exactly cupcakes!
As for their nutrient content tomatoes are a good source of vitamin C vitamin K1 beta-carotene and potassium. They are perhaps best known for the aforementioned antioxidant phytochemical lycopene. Lycopene may help protect the skin from sunburn and studies have shown it also has the potential to help support healthy cholesterol levels in the blood. Interestingly lycopene concentration is higher in tomato products—such as tomato paste and tomato sauce—than in fresh tomatoes. Since lycopene and beta-carotene are both fat-soluble carotenoids the body absorbs them best when they're eaten along with some fat—in case you needed an excuse to drizzle some good olive oil over a fresh tomato salad or sprinkle a little cheese on a bowl of zucchini noodles with tomato sauce. 
As if their flavor and nutrient content weren't good enough reasons to eat tomatoes there's another beneficial substance hiding in tomatoes tucked away like a little secret: melatonin! It's true: tomatoes contain a small amount of melatonin and plant researchers believe it has a similar function in plants as it does in humans: it helps regulate a plant's circadian rhythm. A study in which multiple tomato cultivars were grown in the same greenhouse but some were grown in full sunlight while others were shaded found that the shaded tomatoes had as much as 135% more melatonin than the non-shaded ones. This suggests that light exposure plays a role in their melatonin content just as melatonin synthesis is regulated by photo-exposure in people. (Melatonin is synthesized as light exposure decreases such as when the sun is setting preparing people—and plants—for bedtime.) The amount of melatonin in tomatoes isn't enough to act as a sleep aid but it's an interesting bit of trivia nonetheless. (Imagine getting sleepy after a glass of tomato juice at breakfast!)
Don't limit yourself to the more common red tomatoes. Other varieties bring additional nutritional properties such as purple tomatoes which have a higher anthocyanin and antioxidant content. Plant breeders recognize these compounds as helping increase the shelf-life and providing protection against certain plant pests but they're helpful for human health as well.
With summer upon us enjoy the bounty of tomatoes the season offers. But remember: ketchup is not a vegetable!  
Sources