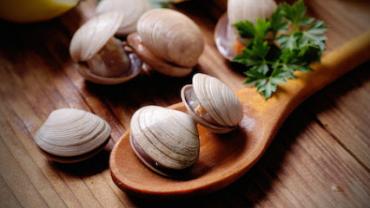 Bivalves for the Brain: Nutrients in Shellfish & Crustaceans
Oysters on the half-shell, shrimp cocktail, lobster meat dipped into melted butter: these seafood dishes are delicious, and maybe even sound a bit luxurious, but that doesn't mean they can't be good for you. Don't let the small size of commonly consumed shellfish and crustaceans fool you. These marine foods pack a nutritional punch that's good for the whole body, but the individual nutrients they contain may be especially beneficial for the brain.
Aside from being a source of complete protein, shellfish are a concentrated source of vitamins and minerals. These superstars from the sea provide a stunning array of nutrients. Per 3-ounce serving, here's how a few of them stack up with regard to the daily value, based on a 2000-calorie diet for children and adults over four years of age: 
| | | | | |
| --- | --- | --- | --- | --- |
| Nutrient | | | | |
| Vitamin C | 18% | 31% | 19% | - |
| B12 | 408% | 1401% | 340% | 44% |
| Riboflavin | 22% | 21% | 21% | 3% |
| Niacin | 15% | 14% | 13% | 5% |
| Iron | 43% | 132% | 32% | 2% |
| Phosphorus | 21% | 29% | 24% | 16% |
| Zinc | 188% | 15% | 15% | 17% |
| Manganese | 52% | 43% | 289% | 3% |
| Copper | 114% | 29% | 6% | 82% |
| Selenium | 187% | 78% | 109% | 52% |
The B12 content of these foods is stunning! And B12 is especially important for neurological health. It's required for healthy glial cell function and production of myelin, the covering that insulates and protects neurons, supporting proper neurotransmitter and nerve impulse transmission. Aside from hematological changes and numbness and tingling in the extremities, some of the most alarming outcomes of severe B12 deficiency (pernicious anemia) are memory loss, disorientation, and dementia. Even more disturbing is that these neurological effects may not be reversible upon supplementation and repletion. Researchers have found an association between low B12 levels and brain atrophy in older people, and it has even been suggested that B12 insufficiency might be a causal factor in cognitive impairment.
Zinc gets a lot of attention for its role in boosting the immune system, but it has an important role in brain health as well. Amyloid proteins, which build up into insoluble extracellular plaques in the brain, and may contribute to compromised cognitive function in Alzheimer's disease, are degraded by insulin degrading enzyme, or IDE. (Yes, the same enzyme that clears away insulin.) IDE is a zinc metalloprotease, meaning zinc is a required cofactor for proper enzyme function. According to the 2015 Dietary Guidelines Advisory Committee, nearly 15% of the U.S. population has an intake of zinc that is below the estimated average requirement (EAR). And considering the EAR is only "the average daily nutrient intake level estimated to meet the requirement of half the healthy individuals in a particular life stage and gender group" (defined by the USDA), it's likely that many more individuals are deficient in this nutrient, particularly if they have existing health compromises.
Shellfish is also a good source of iodine, another brain-boosting nutrient. Low maternal intake of iodine during pregnancy may lead to reduced neurocognitive ability in offspring, and is also associated with ADHD in children. Children living in severely iodine insufficient areas have a greater incidence of learning disabilities than children from regions with higher exposure to iodine. Iodine insufficiency is common in pregnant women, with some groups being more susceptible than others. For example, women,and men,who avoid dairy due to sensitivity/intolerance are excluding an important source, as are those who avoid iodized salt. Barring allergies, shellfish and crustaceans offer an alternative food source for this critical nutrient. 
There is growing concern about the mercury (Hg) content of seafood, particularly for pregnant women. There is some degree of bio-accumulation of metals in seafood, so some of these "bottom feeding" bivalves and crustaceans may contain less mercury than large, predatory fish that are higher up on the marine food chain. Nevertheless, it is an issue of concern. However, there is evidence that selenium (Se) binds to mercury, and that sufficient intake of selenium may protect against the adverse effects of methylmercury (MeHg) in the body,some of which include inhibition of selenium-dependent enzymes in fetal brains, but increased maternal intake of selenium may help prevent this. In fact, "studies of maternal populations exposed to foods that contain Hg in molar excess of Se ["¦] have found adverse child outcomes, but studies of populations exposed to MeHg by eating Se-rich ocean fish observe improved child IQs instead of harm." The impressive selenium content of shellfish may help protect against the mercury contamination. However, as always, pregnant women should work their health care practitioners to decide on a diet that is appropriate for them. 
For more information on seafood safety, consult the Monterey Bay Aquarium's Seafood Watch. They provide downloadable, state-specific guides for seafood based on human health as well as environmental sustainability.