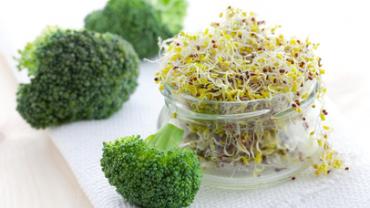 Broccoli extract may be beneficial in fighting head and neck cancer
At the American Association for Cancer Research (AACR) Annual Meeting in Philadelphia last week researchers from the University of Pittsburgh Cancer Institute (UPCI) along with UPMC Cancer Center announced that broccoli sprout extract helps protects against oral cancer in mice and also proved to be tolerable in a small group of healthy human volunteers. These encouraging results will be examined further in a human clinical trial as the researchers will recruit participants at high risk for head and neck cancer recurrence later this year. People who are survivors of head and neck cancer are still at a very high risk for a second cancer in their mouth or throat. Unfortunately these second cancers are frequently fatal.   
The researchers at Pitt and the UPCI Head and Neck Cancer Program tested sulforaphane the health-promoting compound in broccoli sprouts by giving it to mice predisposed to oral cancer. The result was a significant reduction in the incidence of the cancer as well as in the amount of tumors that formed.
For the human portion of the research ten healthy volunteers were treated with a sulforaphane-rich broccoli sprout extract. The protective changes were detected in the lining of their mouths. Due to these results another study will be conducted that will consist of forty volunteers who have already been successfully treated and cured from head and neck cancer. They will be given broccoli seed supplementation and the researchers will seek to determine the impact on the participants oral lining in regards to potential cancer prevention.
Looking at sulforaphane
Earlier studies have demonstrated that cruciferous vegetables with a high concentration of sulforaphane help reduce the effects of environmental carcinogens. Sulforaphane targets several biological pathways that modulate Phase I enzymes and elevate Phase II enzymes that are present in all cells.
Once inside the cells sulforaphane sends a signal to individual cellular enzymes that turns on the natural cellular defenses in these cells. Sulforaphane is capable of restoring the gene's activity towards normal cell progression. Cells are naturally equipped with their own internal defense system. Much of the cell's ability to defend itself is due to two main factors: sulforaphanes ability to produce the antioxidants that quench harmful free radicals and detoxification enzymes to break down toxins.
Sources
University of Pittsburgh Schools of the Health Sciences. "Broccoli sprout extract promising for head and neck cancer prevention
Oral Oncol. 2015 Apr 10. pii: S1368-8375(15)00144-X. doi: 10.1016/j.oraloncology.2015.02.101. [Epub ahead of print].Chemoprevention targets for tobacco-related head and neck cancer: Past lessons and future directions. Sheth SH Johnson DE Kensler TW Bauman JE